Technology Platform
We are leveraging our proprietary technology platforms to develop a novel class of precision oncology therapeutics designed to address clinically validated drug targets.
While the traditional class of TCE therapeutics have displayed potent anti-tumor activity in hematological cancers, their use to treat solid tumors has presented limitations such as overactivation of the immune system leading to cytokine release syndrome (CRS), on-target, healthy tissue toxicities and poor pharmacokinetics (PK) leading to short half-life.
Janux is using its platform masking technology to engineer novel drug candidates that are designed to overcome the traditional TCE toxicity and efficacy limitations. TRACTrs and TRACIrs are purposefully designed to enhance tumor-specific activation with crossover pharmacokinetics to provide medicines with improved safety, dosing and efficacy.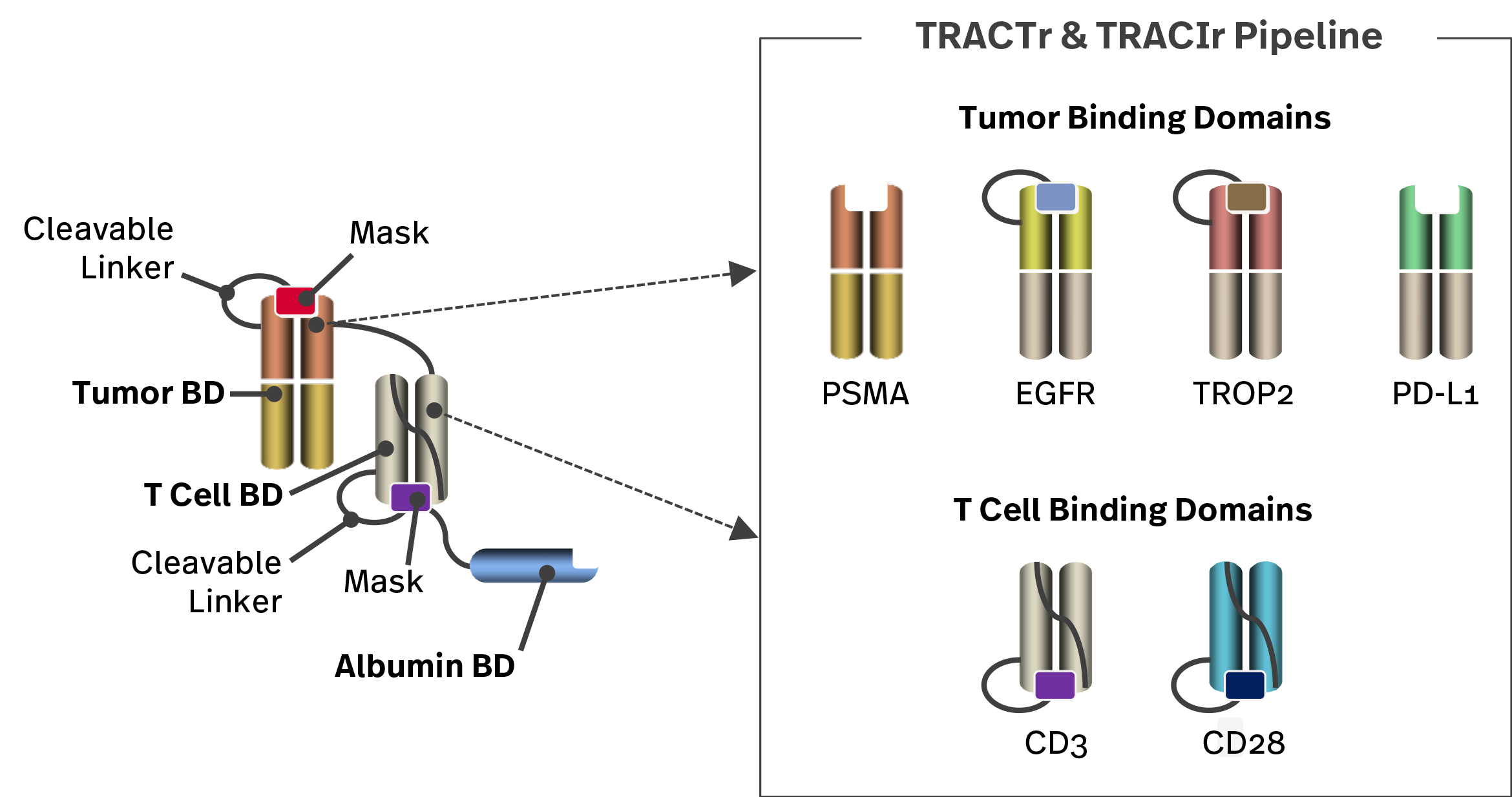 Each of our TRACTrs is comprised of a tumor antigen-binding domain and a T cell binding domain (CD3), while each of our TRACIrs utilizes a tumor antigen-binding domain linked to a T cell costimulatory CD28 binding domain.
The CD3 and CD28 binding domain is always protected by a domain-optimized peptide mask that is covalently bound to the CD3 or CD28 binding domain by way of a tumor specific cleavable peptide linker.
The mask inhibits T cell binding to the CD3 or CD28 domain, until it is removed at the tumor via tumor specific proteases. To extend the half-life of the TRACTr and TRACIr, an albumin binding domain is attached to one of the domain masks via a tumor cleavable peptide linker. Hence, all masks and the albumin binding domain are removed at the tumor.
Both of our novel TRACTr and TRACIr platforms leverage our proprietary technology that is designed to offer the following features:
We have a range of immuno-oncology programs currently in development.